Before Insertion
What to prepare
◆Wire cutter
 Prepare a wire cutter that can cut 0.5mm steel wire (piano wire).

 <Recommendation> Micro Nipper with clip removal
Product name
Micro Nipper HOME
< NP2 >

Micro Nipper PRO
< NP3 >

Length
115mm
125mm
Catting capacity
Up to Φ1mm of soft iron
Up to Φ1.6mm of soft iron
The average durability
(There are individual differences)
10 times
(With a strong power with both hands)
100 times
(With a light power)
Sales price
\800 +tax
\2400 +tax
Country of manufacture
China
Japan

Micro nipper is made for the use of cutting soft iron. Wire of NailLift is made by shapememory alloy that is far stronger than stainless wire, so it is really important to find micro nipper that have enough capacity to cut wire of NailLift properly.
After long research, we found above 2 micro nippers that are judged to have enough cutting capacity for wire of NailLift.
We provide them with complementary tool with which you can remove clips of NailLift easily. *Although these 2 micro nippers have enough cutting capacity and it can be used for relatively long time, please understand that they need to be replaced when sharpness become weak while using for NailLift.
◆Nail file
Clips cannot be inserted to the nail that is thicker than 1mm.
In that case you need file to scrape the nail down to 1 mm thickness.
Coast file with #100 or less is recommended.
We have a NailLift associated with dedicated file with coarse # 60 and fine # 120 at both side.


Shape the nail for insertion

Edge of the nail should be around 2.5mm. Cut the edge of the nail straight across, and shape the nail square as much as possible.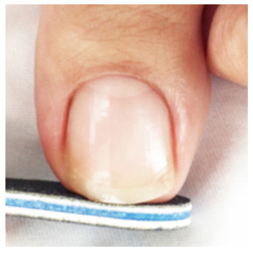 <In the case of thick nail>
File the tip of the nail to thin with enclosed file.
If you put a color by oil pen on the tip of the nail, it will be easy to see how much the nail has been filed off.
The black side of enclosed file is coarse at #60, and you can file the nail strongly, The white side is fine at #120 that is suitable for finishing.
Please refer How to file the thick nail.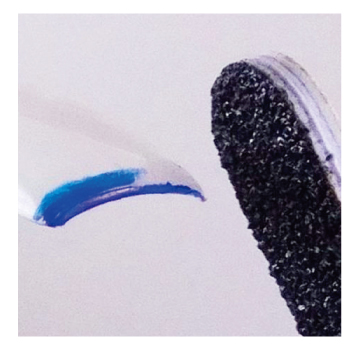 <In the case of thin nail>
Clips may not firmy catch too thin nail, In such case, coat about 5mm from the tip of the nail with a gel nail or gel adhesive glue to cover the clips.
Wire has strong corrective power, in some cases regardless the thickness the nail, the nail may be cracked or become flat by over-correction. In order to prevent those cases, we recommend to coat with gel even if the nail is not too thin. You can also coat the whole nail with gel, not only for 5mm from the tip of the nail.