Before installation
Things you'll need
◆Nippers
We suggest preparing nippers designed for cutting 0.35 millimeters stainless steel wires (or piano wires).

Highly recommended Nippers for a NailLift (with a clip remover)
Model
Nippers Home
Model Number: NP2

Nippers Pro
Model Number: NP3

Length
115 millimeters
125 millimeters
Maximum Cutting Capacity
Soft iron wire: φ1 millimeter
Soft iron wire:φ1.6 millimeters
Average durability
(Results may vary.)
10 cuts
(May require both hands pressure)
100 cuts
(With minimum effort)
Price
\800 (Tax excluded)
\2,400 (Tax excluded)
Country of manufacture
China
Japan
Note: The nippers are meant for cutting soft iron wires.
The shape memory alloy wires, used by a NailLift, are much stronger than typical stainless steel wires. It's not easy to find ideal nippers, which enable to easily make a clean, crisp cut such strong wires.
We have been convinced that the two nippers recommended above are very reliable, effective and safe as a result of thorough research. As a result of repeated negotiations with each manufacturer, we end up selling these two nippers.
We offer these nippers with our specially produced clip remover for a NailLift.
Please be informed that the nippers for a NailLift last relatively longer but are intended to be consumed eventually.
◆Nail file
The clips cannot catch a toenail with a thickness of more than 1millimeter.
A nail file is an essential item to file and rough up a thick toenail.
The nail file with a rough surface (preferably the lower than # 100) is our recommendation.
We offer #60/#120 (very rough and gentle) double-sided nail file for specially made for a NailLift.  It comes with a NailLift.


Trim a toenail
You should leave around 2.5 millimeters white free edge at the top of the toenail.
Cut the toenail straight across and trim it into a square shape.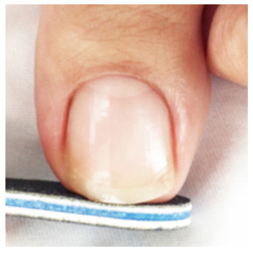 【What if a toenail is too "thick"? 】
File both top edge of the toenail and the sides of the free edge by our nail file in order to install the clips.
Then, paint the toenail tip with a marker.  This way is easier to understand visually how much it has been already filed down.
The black side of our nail file is very rough (the harshest one in the industry so far) #60 and allows you to file and rough up ideally.
The white side is gentle #120 and suited for a final touch.  
Learn more about how to file a thick toenail by the nail file.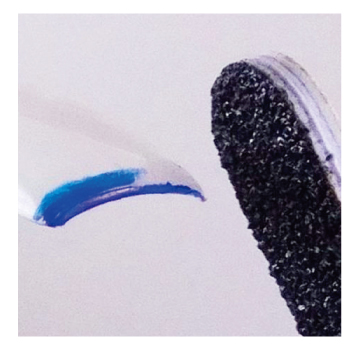 【What if a toenail is too "thin"?】
The clips may come loose with a thinner toenail after installation.  In this case, apply gel nails or gel glue around 5millimeters from the toenail edge to form a solid coating.
Due to the strong restoring force, it may crack or over-straighten a toenail (irrespective of the thickness). Therefore, our recommendation is to apply gel to coat a toenail in a protective seal regardless of the thickness. You can apply gel on the toenail 5 millimeters from the free edge or fill in the entire toenail.